You are here
Back to top
Wonderland: Poems (Hardcover)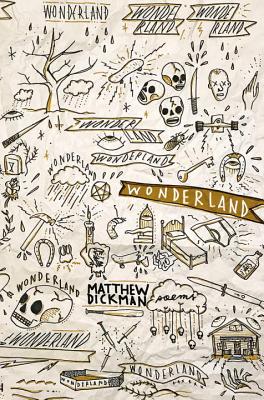 $26.95
Usually Ships in 1-5 Days
Description
---
Luminous and hypnotic, this dynamic collection explores the dark edges of childhood, violence, race, class, and masculinity, by one of the most fearless poets of his generation.
"Known for poems of universality of feeling, expressive lyricism of reflection, and heartrending allure" (Major Jackson), award-winning poet Matthew Dickman returns with a collection that engages the traces of his own living past, suffusing these poems with ghosts of longing, shame, and vulnerability. In the southeast Portland neighborhood of Dickman's youth, parents are out of control and children are in chaos. With grief, anger, and, ultimately, understanding, Dickman confronts a childhood of ambient violence, well-intentioned but warped family relations, confining definitions of identity, and the deprivation of this particular Portland neighborhood in the 1980s. Wonderland reminds us that, while these neighborhoods are filled with guns, skateboards, fights, booze, and heroin, and home to punk rockers, skinheads, poor kids, and single moms, they are also places of innocence and love.
About the Author
---
Matthew Dickman is the award-winning author of Wonderland, Mayakovsky's Revolver and All-American Poem, winner of the May Sarton award from the American Academy of Arts and Sciences. He lives in Portland, Oregon.
Praise For…
---
My first thought about the poems in Matthew Dickman's new collection, Wonderland, was: Why doesn't every poet write this way? . . . I wish others wrote with Dickman's clarity and ability to engage. . . . these poems light both heart and mind.

— David Kirby - New York Times

Tender and troubling, dark and glowing. . . . [F]ull of glimpses of sudden violence and hidden traumas, which often simultaneously mix with tenderness, love and indeed a certain sense of wonder.
— San Francisco Chronicle

[Dickman's] ability to not only recollect but also to relive his childhood in the present moment, as if boy and man coexisted and conversed with each other, manifests a hard-won wisdom. . . . [S]urprisingly affective.
— Library Journal

Ferocious. . . . In Dickman's poems, readers observe as the bright-eyed potential of youth is shattered by the devastation of adulthood's onset.
— Publishers Weekly

There is an unabashed rapture to these poems about ordinary American life in the analog age. How astounding, and how perfectly troubling, to be led through this fearsome, familiar realm of choked silences and violent collisions by an intelligence as deft and buoyant as Matthew Dickman's.
— Tracy K. Smith, United States Poet Laureate

A wonderful new poetic voice writing warm and cozy visions of old Portland, Oregon. I loved it.
— Gus Van Sant, Academy Award–nominated filmmaker

With Wonderland, Matthew Dickman captures the vicissitudes of childhood: the mess and wildness of it all, how we are both held and discarded, the way darkness subsumes the glow and vice versa. Dickman's poems are deft and sparkling and never cease to tear into you with their profound rawness and beauty.

— Carrie Brownstein, star of Portlandia and author of Hunger Makes Me a Modern Girl