You are here
Potty! (Hardcover)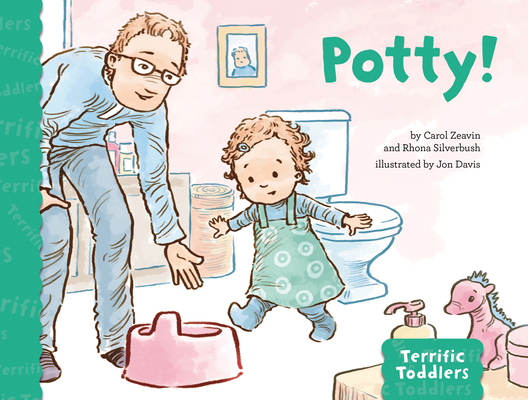 $8.99

Usually Ships in 1-5 Days
Description
---
Ideal for actual toddlers when parents are using the bestselling Busy Toddler's Guide to Actual Parenting: From Their First "no" to Their First Day of School (and Everything in Between) parenting book by Susie Allison, The Montessori Toddler: A Parent's Guide to Raising a Curious and Responsible Human Being by Simone Davies, illustrated by Hiyoko Imai, and Best practices in Toddler Discipline from 1 to 5 without tantrums: Effective Strategies for Developing and Helping your Child
by Mary Simmons, the six books in the Terrific Toddlers Series are Time to Go , New Baby , Potty , Bye-Bye , Boo-Boo , and All Mine The books are written by experts in the field and are critically acclaimed. Potty is a reassuring potty training story for toddlers that offers insight into the many stages that kids can be in. Includes more information about supporting toddlers as they build the bridge to potty training. For kids, this book can be used alongside the popular books Sesame Street: P is for Potty, Potty Time with Elmo, Daniel Tiger's Neighborhood Potty Time , The Poo Poo Book: A Book for Children to Enjoy and Learn about Toilet Time-Make Potty Training Easy and Fun by Mark Bacera, Mae Bacera, and Kait Christenson, Come Out Mr Poo : Potty Training for Toddlers by Janelle McGuinness, illustrated by Jes VP, Let's Go to the Potty : A Potty Training Book for Toddlers by Allison Jandu, Step-By-Step Learning, Potty Story by Agnes Green, illustrated by Natalia Vetrova, Potty board book by Leslie Patricelli, Once Upon a Potty, Dino Potty: Learn to Potty with Dino, Easy Step-By-Step Learning, A Potty for Me by Karen Katz, Potty Superhero, and many others. For adults, this book works well if using the bestsellers Potty Training in 3 Days: The Step-by-Step Plan for a Clean Break from Dirty Diapers by Brandi Brucks, with a foreword by Dr. Fredric Daum, Oh Crap Potty Training: Everything Modern Parents Need to Know to Do It Once and Do It Right by Jamie Glowacki, The First-Time Parent's Guide to Potty Training: How to Ditch Diapers Fast (and for Good ) by Jazmine McCoy, Go Diaper Free: A simple handbook for elimination communication (for babies 0-18 months) by Andrea Olson, and Toilet Training Without Tantrums by John Rosemond.

About the Author
---
Carol Zeavin holds master's degrees in education and special education from Bank Street College, and worked for eighteen years in homes and classrooms with toddlers. She was Head Teacher at both Rockefeller University's Child and Family Center and at the Barnard Toddler Development Center, and worked for Y.A.I. and Theracare. She is a professional violinist living in New York, NY. Rhona Silverbush studied psychology and theater at Brandeis University and law at Boston College Law School. She represented refugees and has written and co-written several books, including a guide to acting Shakespeare. She currently coaches actors, writes, tutors, and consults for families of children and teens with learning differences and special needs. She lives in New York, NY. Visit them at terrifictoddlersbookseries.com, on Twitter @CarolRhona, and on Instagram @TerrificToddlersBooks. Jon Davis is an award-winning illustrator of more than 80 books. He lives in England. Visit him at jonsmind.com, on Twitter @JonDavisIllust, and on Instagram @JonDavisIllustration.