You are here
The Law of the Garbage Truck: How to Stop People from Dumping on You (Paperback)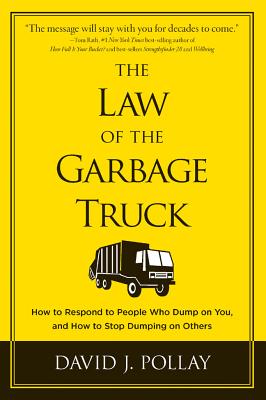 $14.95
This book is currently not available to order, please check back
Description
---
Twenty years ago, while riding in a New York City taxi, international keynote speaker and positive psychology leader David J. Pollay narrowly escaped a life-threatening car crash. The driver who almost caused the accident started yelling at the cab driver, who remarkably just smiled, waved, and wished him well. Pollay asked how the cabbie could remain so calm, and his response sparked the defining principle of The Law of the Garbage Truck: Many people are like garbage trucks. They run around full of garbage, full of frustration, full of anger, and full of disappointment. . . . And if you let them, theyll dump it on you. So when someone wants to dump on you, dont take it personally . . . move on.
In this remarkable book, Pollay shows you how to apply his Law to achieve happiness and success in both your personal and professional lives.
Since David published "The Law" in his syndicated newspaper column six years ago, thousands of blogs have posted it, millions more have read it, and organizations worldwide have adopted it. And the numbers keep growing. Translated into nearly 50 languages, people from more than 100 countries have taken Davids "No Garbage Trucks Pledge." All over the world people remember the focusing metaphor of the garbage truck for what can be achieved in life by not staking success and happiness on the behavior of others. Powerful and easily understood, The Law of the Garbage Truck guides and inspires readers everywhere, every day.

About the Author
---
David J. Pollay, BA, MAPP, is an internationally sought-after keynote speaker and seminar leader whose work has been featured on NPR, ABC, Univision, Sirius, BusinessWeekSmall Biz Magazine, the Baltimore Sun, Business Digest, the Chicago Tribune, the Los Angeles Times, and in media worldwide. People from more than 100 countries have embraced Pollays The Law of the Garbage Truck(TM). He is a founding associate executive director of the International Positive Psychology Association. He has held leadership positions at Yahoo!, MasterCard, Global Payments, and AIESEC. Pollay holds a masters degree of applied positive psychology (MAPP) from the University of Pennsylvania and a bachelors degree in economics from Yale University. He lives in Florida with his wife and two daughters.