You are here
Back to top
Deep Hope: Zen Guidance for Staying Steadfast When the World Seems Hopeless (Paperback)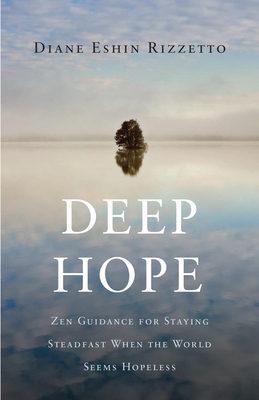 List Price: $18.95
Our Price: $13.27
(Save: $5.69 30%)
Description
---
From a respected Zen teacher, a contemporary take on the paramitas, six traditional practices for cultivating compassion and wisdom--a path of deep hope in the face of personal trouble and societal crisis.

Amidst the barrage of the daily news cycle and the tumult of our personal lives, it may seem natural to contract out of fear or anxiety. But is there a way to face our lives and the world without closing off our hearts? There is such a path, says Zen teacher Diane Rizzetto. It can be reached through the teachings of the Buddhist paramitas or "perfections"—giving and receiving, taking skillful action, practicing patience, engaging effort, meditating, and seeing clearly. Filled with stories, teachings, student questions, and practices, Deep Hope demonstrates the possibility of living with a hopefulness that is grounded in the present moment—a practice of spiritual nourishment and deepening wisdom.
About the Author
---
Diane Rizzetto is the Abbess and Guiding Teacher of the Bay Zen Center in Oakland, California. A dharma heir of Charlotte Joko Beck, she is a founding member of the Ordinary Mind Zen School. Her previous book is Waking Up to What You Do: A Zen Practice for Meeting Every Situation with Intelligence and Compassion.
Praise For…
---
"This marvelous book springs from life itself. A treasure on the perfections, it is a clear and wise read for today's world."—Joan Halifax, author of Being with Dying and Standing at the Edge

"The world is whole, and it is broken. Deep Hope reminds us that right here, in the midst of these challenging times, there is a life-affirming path that can sustain us and help us to repair the brokenness of our world. Rooted in her decades of Zen practice, Diane Rizzetto's warm, insightful teaching of the paramitas opens them as a gift that returns us to ourselves."— Peter Levitt, poet, coeditor of The Essential Dogen and The Complete Cold Mountain: Poems of the Legendary Hermit Hanshan  

 "Diane Rizzetto offers generous words of hope for a wounded world. She points us past the many snares and traps of the stories we tell ourselves and offers simple, clear, and practical ways for us to achieve the deeper hope of an authentic life. With Deep Hope we are taken in the direction of our true longing. This is a wonderful book."—James Ishmael Ford, author of Introduction to Zen Koans and If You're Lucky, Your Heart Will Break

"Diane Eshin Rizzetto does not really tell us about hope or about living a life that gives us hope; instead, she shows us how to find in ourselves the resources of a life of hope. And she does this by skillfully blending the teachings of the paramitas with actual practices and personal explorations that reveal the wisdom and power of these ancient teachings. By turning toward our own experience of the paramitas, we readers are offered a startling path through these dark times when hope is sorely needed."—Roshi Pat Enkyo O'Hara, author of Most Intimate: A Zen Approach to Life's Challenges

 "Diane Rizzetto's Deep Hope is an inspirational guidebook grounded in the 'six perfections' teachings of Buddhism and leavened by her contemporary and practical style of Zen wisdom. The book reenvisions hope as a foundational approach to living 'based on the energy of life itself.' Each chapter is filled with pithy stories, teachings, student questions, and practices, which together offer readers a rich toolset to approach the deepest challenges of life—especially how to remain positive and engaged in today's confused and conflict-weary world. Society needs this book and will benefit in myriad ways from its timely wisdom."—Lewis Richmond, author of Aging as a Spiritual Practice

"Deep Hope is the very thing we need in days when despair is close at hand. With wisdom, eloquence, and ordinary words, Diane Eshin Rizzetto helps us see that enlightenment is an activity and that deep hope can be catalyzed by Buddhist practices of perfection, the six paramitas. These straightforward practices take us within and beyond ourselves to the shore of liberation. Deep Hope offers a clear map of the way."—Hozan Alan Senauke, vice-abbot, Berkeley Zen Center, and author of The Bodhisattva's Embrace

"In a time of violence, division, and disasters, how do we generate hope? In Deep Hope... Zen teacher Diane Eshin Rizzetto offers a powerful way to engage with the world today."—Buddhadharma: The Practitioner's Quarterly

"An extraordinary and straightforward guide to help the reader apply Zen Buddhist principles to situations that seem hopeless... an exceptional work."—New York Journal of Books