You are here
Returning the Self to Nature: Undoing Our Collective Narcissism and Healing Our Planet (Paperback)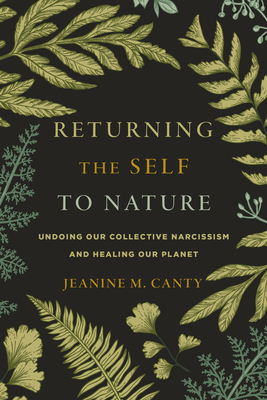 List Price: $18.95
Our Price: $13.27
(Save: $5.69 30%)
Usually Ships in 1-5 Days
Description
---
Nautilus Book Award Winner

Using the lens of ecopsychology, Returning the Self to Nature shows that the pervasive and extreme forms of narcissism we find in many modern societies are fundamentally the result of alienation from the natural world. But it doesn't have to be that way.

Returning the Self to Nature is written for the person who no longer wishes to function in a world that revolves around selfish, disconnected identity models and yearns to step into healthy relationships with one's self, one's community, and our planet. 
  
Seeing the suffering of the planet and that of humans as inseparably linked—the ecological crisis as psychological crisis, and vice versa—opens the door to a mutuality of healing between people and nature. At the heart of both chronic and acute forms of narcissism is a socially constructed false self—an isolated, damaged ego in a delusional cycle of selfishness. 

Through unflinching analysis and meditation practices that encourage visualizing and embodying the wild naturalness of being human, the reader will gain skills to begin experiencing a courageous, pluralistic, and ecological self. This book is an invitation to wake up from the dream of the false self and join the movement toward social and planetary healing.
About the Author
---
JEANINE M. CANTY is a professor in the Transformative Studies Doctoral program at the California Institute for Integral Studies. Formerly the chair of Environmental Studies at Naropa University, she continues to teach at Naropa and at Pacifica Graduate Institute's Ecopsychology certificate program. Her edited volumes are Ecological and Social Healing: Multicultural Women's Voices and Globalism and Localization: Emergent Approaches to Ecological Crises.
Praise For…
---
"We are in crisis as a world community. On top of political and financial instability, war, and a continued global pandemic, we are also having to contend with the instability of our natural world, the earth, and our climate. In Returning the Self to Nature, Jeanine Canty offers us a path back to nature itself, to start cutting through our individual and collective narcissism to embrace a profound shift to collective concern—which includes care for our planet. This book is such a generous offering, helping us to take compassion action on behalf of our communities and our precious planet."—Lama Rod Owens, author of Love and Rage: The Path of Liberation through Anger

"Jeanine Canty has brought into focus a problem that affects us both interpersonally and environmentally. The importance of understanding how intertwined racism, sexism, narcissism, and world devastation are is made clear in this wonderful book. The emotional and personal reasons behind why our world is suffering so much are exposed here. What a joy to see the depth of thought, research, and vulnerability that this book offers us, and for all these reasons it is a 'must read' in these challenging times."—Lama Tsultrim Allione, author of Women of Wisdom and Feeding Your Demons
 
"Today we bear witness to the catastrophic effects of individual and collective narcissism: painful divides between classes, races, and political tribes, and an urgent climate crisis. Although these seem like disparate issues, according to Jeanine Canty, the invisible thread that ties them together is our worship of the heroic ego and our efforts to fill its bottomless needs. This overarching insight is a significant contribution to the critical conversations of our time."—Connie Zweig, author of The Inner Work of Age and Meeting the Shadow of Spirituality
 
"Today many different challenges confront us, but there is a basic dysfunctional pattern underlying and connecting most of them. Returning the Self to Nature weaves together many of the most important strands: personal and collective narcissism, alienation from the earth, consumerism, racism, and other forms of social injustice, corporate globalization. If you want to understand the root of these problems and how to address them, this is a good place to start."—David R. Loy, author of Ecodharma: Buddhist Teachings for the Ecological Crisis
 
"Jeanine Canty offers a deep appraisal of how our collective narcissism fuels violent exploitation and our escalating ecological crisis. She also helps us navigate these painful realities by guiding readers into a dynamic healing space, offering practices and perspectives that can restore socially just, harmonious relationships with each other and all beings of our Mother Earth.  It is an essential read for taking the necessary steps toward a life sustaining world."—Leslie Davenport, author of Emotional Resiliency in the Era of Climate Change

"What would you do if someone told you that they held a key to understanding the degradation of our primordial parent, Mother Earth? Would you listen? What if they told you that these wounds to Earth are inflicted because we wound each other? Could you bear it? What if they showed you a way toward clarity and loving selflessness? Would you be open? In Returning the Self to Nature, Jeanine M. Canty shepherds us through the emotionally painful reality of our collective narcissism to remind us that we are much more expansive than our wounds lead us to believe."—Pamela Ayo Yetunde, co-editor of Black and Buddhist and author of Object Relations, Buddhism, and Relationality in Womanist Practical Theology

"Jeanine Canty speaks with the voice of nature. A lover of truth and clarity, sunshine, moonlight, and sounds of the night forest, she is a gift to all lovers of the natural world."—Allan Combs, coauthor of Thomas Berry, Dreamer of the Earth

"This incisive outing from Canty examines narcissism's role in alienating humans from the natural world. Canty's analysis succeeds in blending Buddhism, psychology, and environmentalism in a heady mixture that remains accessible throughout. The result is a unique and bracing take on the climate crisis."—Publishers Weekly