You are here
Enlightenment Is an Accident: Ancient Wisdom and Simple Practices to Make You Accident Prone (Paperback)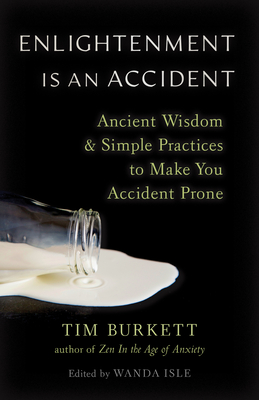 List Price: $19.95
Our Price: $13.97
(Save: $5.99 30%)
Usually Ships in 1-5 Days
Description
---
A warm-hearted guide to Buddhist practice for those ready to contend with the reality that enlightenment—the realization of non-self—can't be achieved by the self.

A well-known spiritual saying goes, "Enlightenment is an accident. But we can make ourselves more accident-prone." As an authentic American Zen takes shape, enlightenment continues to be misunderstood as a project to be completed, a goal to be achieved, or a prize to be awarded. Tim Burkett's new book unhooks enlightenment from the hot air balloon of ego and brings it back down to earth.

Drawing on stories of his first teacher, the Zen master Shunryu Suzuki (author of Zen Mind, Beginner's Mind), and Burkett's decades of practice and teaching, he reveals how to live in the world with a deep joy that comes from embracing the work and play of this very moment. With the wisdom and humor of a seasoned practitioner familiar with all manner of eccentric fixations and silly dead-ends, he offers views and practices we can use to support the paradoxical process of letting enlightenment happen on its own.
About the Author
---
TIM BURKETT began practicing Zen Buddhism in San Francisco in 1964 with renowned teacher Shunryu Suzuki. He is the former CEO of the largest nonprofit organization in Minnesota for individuals with mental illness and served as guiding teacher of Minnesota Zen Meditation Center from 2004 to 2021. He is a psychologist, a Zen Buddhist priest, and the author of Nothing Holy About It and Zen in the Age of Anxiety. He and his wife, Linda, have two grown children and two grandchildren.
Praise For…
---
"With a truly warm voice and the insight arising from genuine practice, Tim Burkett offers a treasury of Buddhist parables, classic Zen teachings, and moving stories from his long experience as a student and teacher."—Roshi Joan Halifax, author of Being with Dying and Standing at the Edge

"In Enlightenment Is an Accident, Zen teacher Tim Burkett manages, without fanfare or complications, to write about almost everything a lifetime of Zen practice entails, from beginners' tips to philosophical depths. With encouraging grandfatherly kindness, he makes the practice clear and available, without sacrificing any of its wonder. I am especially impressed with his psychological acumen, borne of many decades of guiding Western students in the practice."—Norman Fischer, author of When You Greet Me I Bow and Selected Poems 1980–2013

"In an overly striving world, Zentetsu's message is refreshingly direct—spiritual discoveries come as accidents, and we'd best prepare to trip, stumble, and fall into the openness of mind. Full of wise humor and engaging stories, this book invites us into that surprising and delightful journey."—Judith Simmer-Brown, author of Dakini's Warm Breath

"Enlightenment Is an Accident is a potent antidote to the materialism and bypassing on offer in many spiritual circles these days. Accessible and kind, Burkett invites us to take off our masks, see ourselves clearly, and welcome the accidents of life as the very ground of awakening."—nico + devon hase, authors of How Not to Be a Hot Mess

"Tim Burkett's Enlightenment Is an Accident beautifully weaves stories from ancient wisdom, sixty years of Zen practice, and his time with some of the great planters of Buddhism on North American soil to create a warm-hearted invitation to a more joyous, more free, and kinder way of being in the world."—Ben Connelly, author of Inside Vasubandhu's Yogacara and Mindfulness and Intimacy

"[An] illuminating entry. . . . The well-balanced mix of Zen wisdom and psychological principles makes for persuasive lessons. Buddhist beginners and those seeking to revitalize their practice will be inspired."—Publishers Weekly