You are here
Invisible, Invincible Black Women Growing up in Bronzeville (Paperback)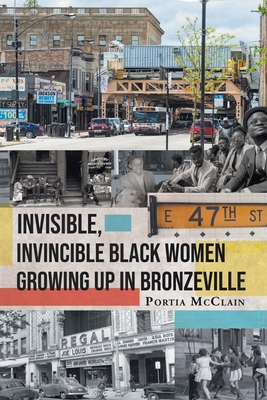 $18.95

Usually Ships in 1-5 Days
Description
---
As a young lad visiting Jackson, Mississippi, during many summers, Portia sat on the front porch and listened intently as her great-grandmother and grandmother told stories of perseverance, triumph, blessings, and strength. This experience and the richness of their recollection of love and family while also enduring the obstacles of oppression and segregation shaped the fiber of who she is. A full understanding of her identity and knowledge of family history kept her strong and resilient and gave her a foundation for survival to weather any storm.
Portia was born at the very beginning of the civil rights era to parents who migrated from the South, and she was a teenager at the height of the 60s movement. This incredible and insightful next generation story you will read, Invisible, Invincible Black Women Growing Up in Bronzeville, is a combination of history that has been handed down along with an eyewitness account of the things Portia saw during and after the Great Migration to the north.
Portia is a woman of compassion, vulnerability, toughness, and wisdom; this combination makes some see her as complex at first glance. She is a trailblazer for positive change and has a keen discernment of people.
After many sacrifices for others, Portia completed her bachelors and masters degrees in education. She is currently an adjunct professional and is a special education teacher with the State Board of Education. Portias work as a student learning advocate has been featured in the local newspapers.
The end goal of the book and its story is to remind anyone that you can overcome and survive and know that, amid any and all the broken dreams in life, you can still achieve your life mission and have happiness and contentment.