You are here
Trigonometry made simple: A self-Teaching Guide for dummies (Paperback)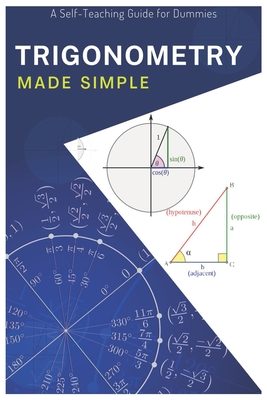 $9.79
This book is currently not available to order, please check back
Description
---
Trigonometry made simple is a self teaching practice workbook, that will guide you to understand all you need to know about Trigonometry and ratios. It is an easy to understand guide with exercises and related solutions. This book includes an explanation part, example with solutions, practice problems, problem-solving strategies, multiple-choice questions with answer sheets.
Features:
Angles and properties.

Analysis on Pythagorean theorem.

Basic trigonometric ratios.

Inverse of Basic trigonometric ratios.

Ratios of complementary angles.

Ratios of special angles.

Trigonometric ratios of general angles.

Quadrants and angles.

Coterminal angles.

Radians and degrees.

Sine rule.

Cosine rules
Miscellaneous Examples and practice Exercise with Answers.

Save yourself the feelings of Mathematics is difficult. Grab your copy of this guide.